Why Choose Us
Our Acupuncture Clinic has been Serving Patients since 2007.
Many couples are unable to conceive and start a family, while many others struggle with common conditions like pain, depression, anxiety and stress.
Our Mission
At Buckhead Acupuncture & Herbal Center our practitioners are compassionate and dedicated to not only addressing symptoms, but we dive deeper, to identify and address the root of your concerns. We start by doing  a comprehensive intake and making time to listen to our people's healthcare goals. With years of experience and training in Chinese herbal medicine, we'll prescribe a unique blend of herbs that along with acupuncture will treat not just the symptom but you the whole person.
What We Do
Our Specialties
Testimonials
Our Acupuncture Patients Are Saying:
Susie K.
Yelp Reviewer
I could not speak more highly of Mark Schwartz and this practice!  If you are looking to conceive he should be a high priority on your list of appointments.  As I was 38 when we started trying, I took the advice of a friend and made an appointment to see him as our first step, before even consulting a fertility Dr.  He was the first person that actually acknowledged that my heavy and extremely painful periods weren't normal and I should consult with someone. This is after years of telling multiple OBGYN's that they are so bad I pass out from the pain.  As a result, our process of getting pregnant took a little longer, as I needed surgery for a large fibroid and a moderate case of endometriosis.  I saw Mark once a week throughout all of this and my recovery from the surgery was a breeze. Four months later, now at 39, I am pregnant with our first child.  I can't imagine having gone through any of that with out Mark's services, guidance & support. He is extremely knowledgeable and guided me through every step of the way in a very practical manner.  He was a source of calm throughout the craziness that fertility issues and pregnancy can bring.  I continued to see Mark during most of my 1st trimester and the accupuncture helped tremendously with my insomnia and other common 1st tri symptoms.  I will be back when we try for baby #2.
Daniela S.
Yelp Reviewer
I have been suffering of terrible migraines for years, (at least 8 years, and the episodes were at least twice a week); every time I would go to the doctor, thy would give me a bunch of medicines, that would help with the pain, but it wouldn´t really help to prevent it, actually, with the years it got worst, adding to the migraines a terrible stomach pain because of so much pills I was taking.
I was researching about acupuncture, and I was very nervous to try it, but I am so glad I did, especially at this place. First the place is super clean, plus, all the measures taken now with covid; really nice and polite people, and the best thing, it´s been almost 3 months now that I don´t have a headache, not even a low one. Sure, I had to go to numerous sessions, but it was completely worth it; so definitely if I could give them more than 5 stars, I would.
I am extremely gratefull to them, especially to Kelly!!
Dee J.
Yelp Reviewer
Simply wonderful! Here's my story and I hope it encourages women struggling with fertility to seek Mark's care. I was told by numerous OB GYNs that it would be extremely difficult for me to have a child of my own. My egg supply was considered incredibly low (5 follicles total) and I had an undetectable AMH. I had tried rounds of Clomid to no avail. I went through a very expensive IVF treatment at a prestigious facility in Colorado in which they were unable to retrieve any "healthy" eggs. Zero eggs. I was newly married and devastated so I decided to try acupuncture. I started going to Mark in July 2017 on a weekly basis and within six months got pregnant. I am proud to say I have a healthy little boy. I am forever grateful to Mark for his kindness, continued care and support throughout my journey.
Dr. Mark Schwartz, DAOM
Doctorate in Chinese Medicine – Women's Health & Integrative Reproductive Medicine , Fellow of The Acupuncture and TCM Board of Reproductive Medicine (FABORM), Dipl. O.M. (NCCAOM)
Hamilton Rotte
Nationally Board Certified Acupuncture & Chinese Herbology - Dipl. O.M. (NCCAOM)
Hamilton Rotte utilizes the full range of modalities within Chinese medicine including acupuncture, herbal medicine, cupping, gua sha, and lifestyle consultation. His specialties include pain management, metabolic syndrome (insulin resistance, high triglycerides and cholesterol, elevated blood sugar, weight gain and high blood pressure), gynecology, mental-emotional conditions and internal medicine.
Kelly Xiang Li
Nationally Board Certified Acupuncture & Chinese Herbology - Dipl. O.M. (NCCAOM)
Acupuncture & Chinese Medicine
After overcoming an ailment such as infertility, PMS, or migraines, patients are encouraged to continue treatment as a means of maintaining health and preventing or minimizing the occurrence of disease. Chinese Medicine has a rich history of use as a means of preventing disease and extending life both in terms of length and quality. In China it is said, "The superior doctor treats before there is disease, the mediocre doctor treats [when one is] on the verge of becoming ill, and the inferior doctor treats [when there is] already disease."
According to these statements, the superior physician should prevent disease from arising, not just seek to eliminate it after it has taken hold. It is treatment based on pattern discrimination that allows a Chinese medical practitioner to do this. We all exhibit some pattern of disharmony even though we may not be diagnosed as suffering from a particular disease. By addressing these constitutional or habitual patterns when they are relatively mild, one can prevent them from becoming so severe as to eventually cause disease. We believe there is a shift that has been taking place among western trained physicians, and it is encouraging to see many turning to preventative medicine and anti-aging practices. Though the two may use different models to represent the human organism and hold varying opinions on how pathology occurs, Conventional medicine and Chinese medicine have finally arrived at the same important conclusion.
Information About Acupuncture
Read More
What is Acupuncture?
Acupuncture is the gentle insertion of very fine needles into specific points on the body. This process stimulates movement of energy within the body, allowing natural healing to take place. These points are selected based on years of training acupuncturists receive based on over 3,000 years of experience in China.
Acupuncture helps to prevent illness by improving the overall functioning of the body's immune and organ systems. Acupuncture is helpful for:
Treating existing illnesses and injuries
Preventing both recurrence of illnesses and new illness
Improving overall health
Acupuncture originated in China over 3,000 years ago. It is part of the holistic system of healing known as Chinese medicine.
How does Acupuncture work?
Chinese Medicine Theory
The Classical Chinese explanation is that energy (Qi) flows in channels (meridians) throughout the body and over its surfaces. These channels are rivers of energy which are referred to as meridians. The Chinese have identified 71 meridians in the human body, which is a basic energy map for all people. The meridians are often compared to a series of interconnected highways. Each of the major organs in the body is associated with its own meridian. Through the network of meridians the internal organs are connected to certain areas and parts of the body including the muscles, bones, joints, and also other organs.
The Chinese believe that health is a manifestation of balance, both within the body itself and between the body and the external environment. When the body is internally balanced and in harmony with the external environment, Qi flows smoothly through the meridians to nourish the organs and tissues. If an obstruction occurs in one of the meridians, the Qi is disrupted and cannot flow properly. When the Qi cannot flow smoothly or is forced to flow in the opposite direction, the body's innate balance is disrupted and illness results.
Acupuncture points are the specific points on the meridians where the Qi is both concentrated and accessible. Acupuncture engages the Qi by inserting needles at these specific points, the goal being to restore the proper flow of Qi. As the body regains its natural balance, well-being returns.
Acupuncture & Modern Science
 To the human body, acupuncture needles are a physical stimulus. In Western science, a stimulus is defined as a detectable change in either the external environment or within the body itself. When the body detects change, it produces a response. Although acupuncture is not yet fully understood by Western science, with modern technology scientists can now actually begin to "see" the body's response to acupuncture. For example, using Functional MRI, researchers have shown that when a needle is inserted at specific acupuncture points on the body, corresponding changes occur in the brain.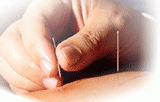 In the West, acupuncture is most well-known for its ability to relieve pain so the majority of research thus far has been done in this area. Acupuncture points are now believed to stimulate the central nervous system (the brain and spinal cord) to release pain-relieving chemicals into the muscles, spinal cord and brain. Acupuncture may also stimulate other chemicals to be released by the brain, including hormones that influence the self-regulating system of the body.
Herbs
Herbal medicine is by itself a powerful method of healing. Western drugs are usually used to control symptoms but do not alter the disease process. For example: antibiotics kill bacteria but do not improve a person's resistance to infection; diuretics drain excess fluid from the body but do not improve the kidney function. Chinese herbs can also rid the body of disease but they also nourish and balance the body in very specific ways, thereby improving organ function and building up a person's constitution and immune system.
Chinese herbs are traditionally given as a very strong tea. The acupuncturist will give the patient several bags of herbs. Each bag contains a formula of about 12 or so raw herbs that has been prepared specifically for the patient and his or her condition. The patient then prepares the herbs at home by boiling them in water for about a half an hour. The benefit of this method is that the formula can be customized to the patient's particular condition. The acupuncturist may prescribe herbal pills, powders or tinctures instead because these are more convenient. However, the raw herbs are usually stronger and always more adaptable.
Summary
Oriental medicine has been around for thousands of years, and has provided us with a unique and holistic approach to help prevent and treat disease. Western science and Traditional Chinese Medicine ultimately rely on the body's natural healing ability to maintain health and protect against disease. Both have the same goal of helping a person stay healthy. Western science tends to use drugs and surgery as needed. Acupuncturists tend to use gentle needling and herbs. A combination of both systems creates an ideal environment of health and healing.
While you are here at the Atlanta-Acupuncture website, we recommend you take a look at some of our informational pages describing some of the health services we offer as well as medical research and rationale. An overview of the health conditions we treat can be found on the conditions treated page. For information on Chinese medicinal herbs, please take a look at our Chinese herbs page. We are also devoted to women's health and we specialize in infertility, gynecology, and pregnancy. Take some time to read our Atlanta acupuncture testimonials from many different patients with many different health concerns. We also have much more content in the form of acupuncture videos and an Atlanta acupuncture blog.